A golfer covers about 12km on an 18-hole round. This means a high load for the feet and at the same time places high demands on optimal footwear. We make sure that you go on the round with the perfect golf shoe for you. Our experts are here for you!
FIT GUARANTEE
If you are dissatisfied with the fit of your shoes purchased from us, we will take them back within six weeks of the date of purchase and refund the purchase price with a new pair. The right of withdrawal and legal warranty rights remain unaffected.
Which golf shoe model is right for you?
Too narrow, too wide, too soft, too hard. Walking feels too stiff or too flexible. The lacing presses on the instep...there are many situations we all know. Sometimes it is also a combination of several things.
We don't see the problem, we see the solution!
Be sure: you are not alone in your characteristic and the solution may not have been the first choice, but where there is a nice model, there are others. Below you will find the most common circumstances that can complicate the selection of the shoe model. It is important that your new golf shoes are a support and not a handicap to your movement and therefore your golf game during your round of golf. After your round, "tired" feet are normal, but you should still feel good.

1. High instep
If you have feet with a high instep, you often can't stick to specific brands. What is important is what type of shoe this is. The golf shoe in this case should be flexible and give your foot some room to move. We recommend in this case in most cases models with lacing. This gives you the opportunity to adjust the shoes to your instep optimally. The BOA lacing system does not necessarily have to become a problem with a high instep. If the fit is appropriate, there is also a choice here.

2. Wide foot
A familiar situation: the sporty, narrow-cut golf shoes look really good, but your foot just doesn't fit in. It feels tight, there is no comfort. The width can occur in the toe area, but also in the midfoot area. What to do Comfortable shoes are needed. Comfortable model does not mean "clunky".

3. Narrow foot
Just like wide feet, narrow feet can also make it difficult to choose. And if you have too much space in the shoe, this not only results in less comfort, but also leads to less stability during the swing.

4. Strong people
Weight is not a problem. However, you should make sure that you wear the right footwear. Comfort and stability must be in the foreground.

5. Relief for feet, knees and back muscles
(e.g. after injuries and regular complaints) Almost everyone knows them: back pain. But if the pain allows it and we do not have to give up our favorite sport, the right footwear is a must. Past foot or knee injuries can also lead to pain occurring at the latest after a round of golf. The right model can lead to a pain-free round.
If you have any further questions, please contact us: customerservice@golfhouse.com. Of course, our shoe experts will also be happy to help you at your preferred store.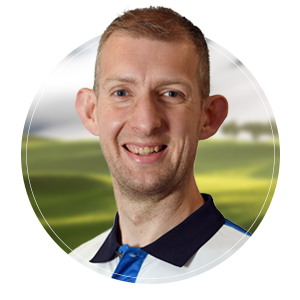 Gabor Kiss, shoe expert at the Eschborn branch
"We have the right shoe for every foot. We will be happy to advise you personally in our store and find the perfect shoe for you!"