A company with a future
We are there for you and your game - with first-class service, the latest products as well as perfect advice for your passion: Golf!
Since its foundation in 1976, Golf House has developed into the largest golf retailer in Germany, Austria and the Czech Republic with a leading position in Europe.
Whether in our 29 branches or on golfhouse.com - with us, you and your game come first.
Advise, support and inspire:
This company philosophy stands for a shopping experience in a friendly, service-oriented and, above all, authentic atmosphere.
Today, Golf House is synonymous with the highest standards, the best expertise and perfect service.
As a leader in quality and innovation, we are in close contact with all leading manufacturers, suppliers and opinion leaders worldwide - always on the lookout for the latest trends and most innovative products.
Get to know us - in our 29 stores and online.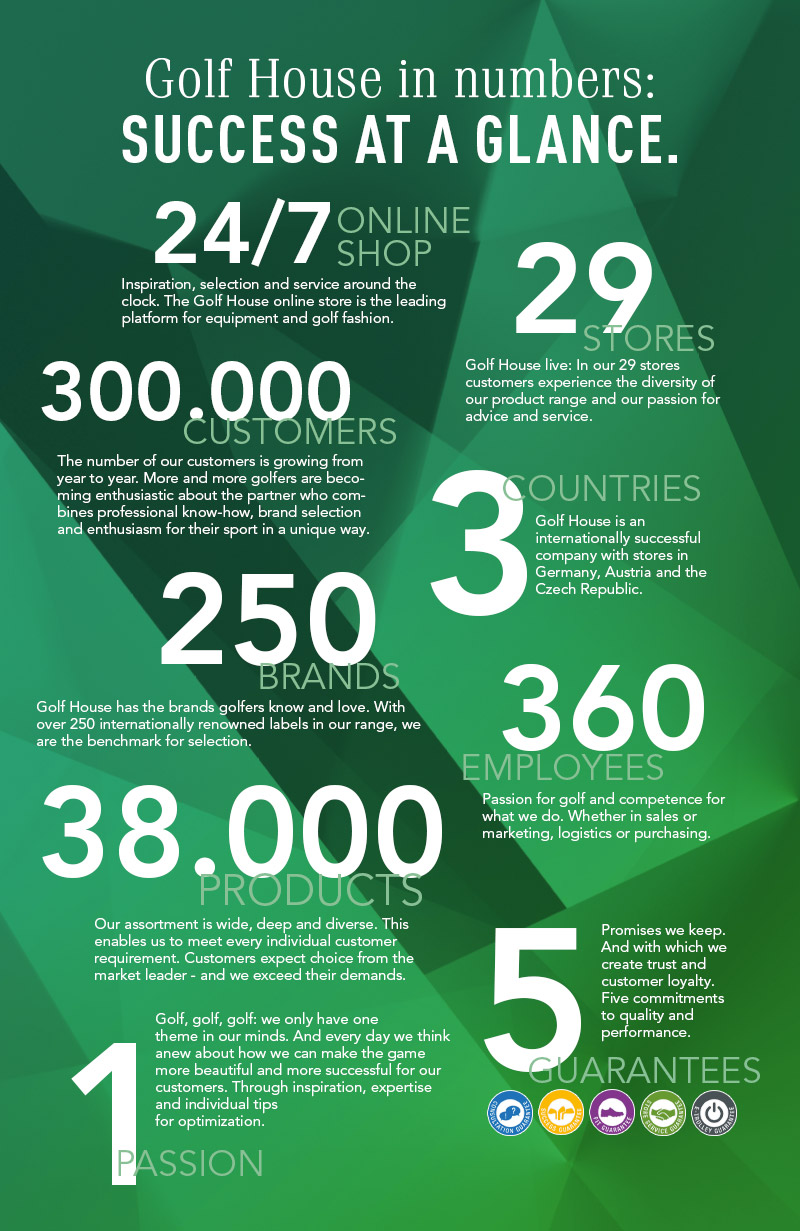 Everything for your game
Our heart: The Golf House branches - spread across three countries and 29 locations. in 2014, Golf House was elevated to an international stage by merging with Austria's Golf Zone as well as Golf USA in the Czech Republic. This now allows us to be the golfing announcement in three countries.
The newly opened stores since 2012, planned and designed according to the most modern standards, set standards - worldwide!
Thanks to the latest technology, our PGA Golf Professionals and passionate single handicappers can cater even more specifically to your individual swing and the matching equipment. And should your equipment ever need repair, our professionals welcome you to our service workshops.
Golf fashion at Golf House: Here you will find all brands, all trends - in an extraordinary assortment breadth and depth.
Our web store is a leading platform for golf fashion and equipment and offers you an even wider selection of items and brands, combined with unique services such as store delivery.
Whether online or in our stores - we offer you the best service and through our guarantees we want to assure you that service and fairness is a matter of course at Golf House.
Concentrate on your golf game, because we take care of the rest - enjoy your game!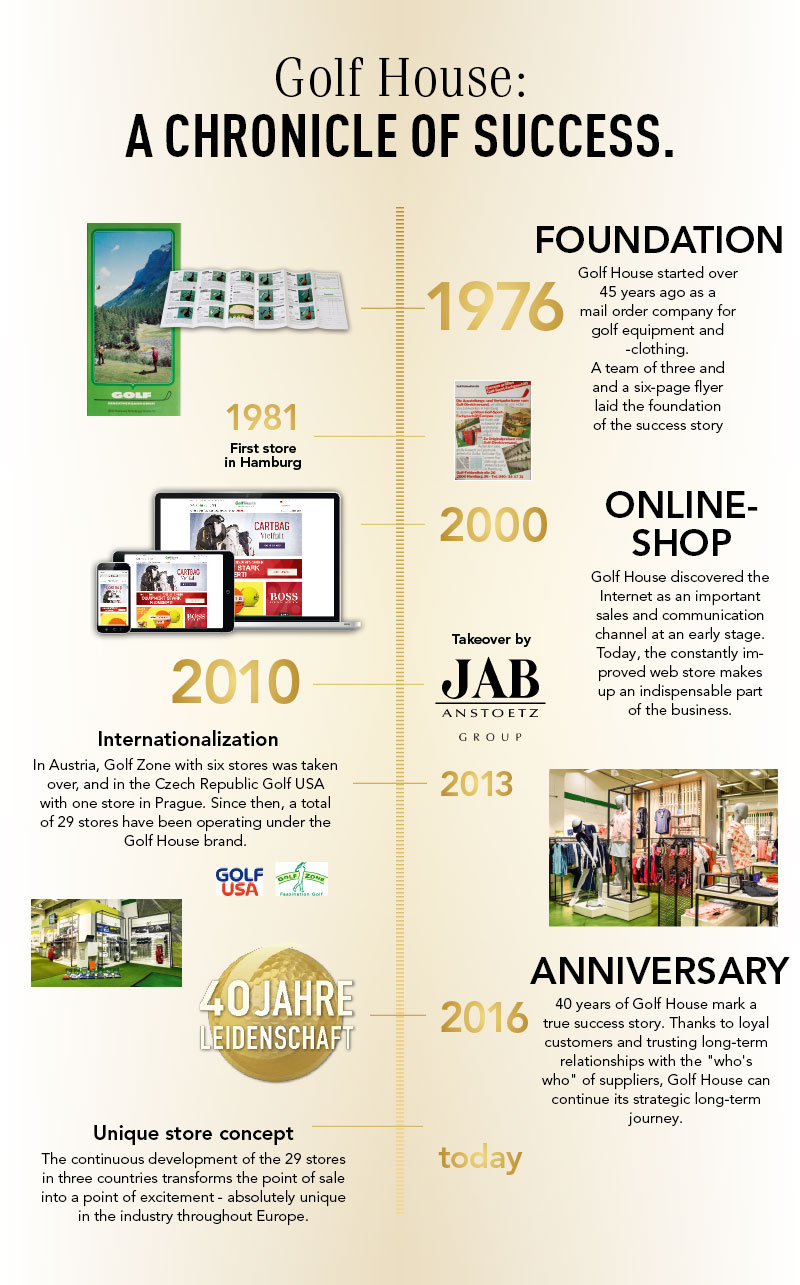 Managing Directors
Frank Ewers, Ralph Anstoetz
Branches in Germany
Bad Griesbach, Berlin/Brandenburg, Bielefeld, Bottrop, Bremen, Düsseldorf, Frankfurt Eschborn, Freiburg, Hamburg Eidelstedt, Hamburg Hammerbrook, Hanover, Kassel, Cologne Downtown, Cologne Pulheim, Cologne Golf Club Pro Shop, Mannheim, Munich Brunnthal, Munich Downtown, Munich Schwabing- Freimann, Münster, Nuremberg, Stuttgart
Branches in Austria
Graz, Linz, Salzburg, Villach, Vienna, Wiener Neudorf
Branch in Czech Republic
Prague
Head office and dispatch
Hamburg
Dispatch warehouse
Hörsel