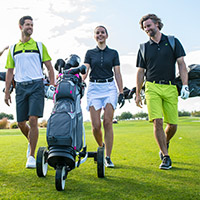 Advice for beginners

You have taken part in a taster course, are now infected by the golf virus and still have so many questions? Then we have lots of advice for you about golf equipment and the perfect clothing!
Discover advices now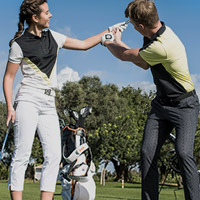 Expert advice
If you have any questions about golf equipment, golf fashion or golfing, our experts will be happy to help. For each topic we have the right contact person for you.
To the expert advice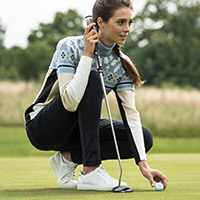 Glossary
From AQUA-BLOCK® to Birdie, Cavity Back, waterproof to wind stop - here you will find explanations of the terms we use in connection with golf, equipment and clothing.
To the glossary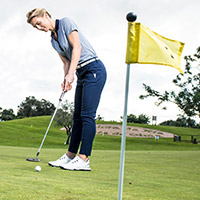 Rules of Golf
"Play the ball as it lies. Play the course as you find it. And if you can't do either, do what is fair. But to do what is fair, you need to know the Rules of Golf."
To the Rules of Golf
Finding the right golf equipment for beginners - it's that easy!
What would a golfer be without the right equipment? Pretty much the same as a summer without sun. The range of high-quality golf equipment is anything but standard, but truly diverse. There is something for golfers of all levels. But often it is not only the right golf equipment that paves the way for the first steps in golf, but also the joy of playing. This is the only way to exploit your own potential and achieve quick success on the golf course.
Which golf clubs do beginners need?
As in every year, there are lots of new golf clubs on the market. All of them are supposed to be better than their predecessors - sounds logical. To help golf beginners keep track of what's out there, we present drivers, fairway woods, hybrids and putters that will help newcomers get a good start in the game. When choosing a driver, it is important that these clubs fit the game. This means that they are optimally adapted to the body size and also fit perfectly in the hand. Therefore, when buying golf clubs, it is a matter of principle not to buy a club that has not first been swung on the driving range for a test. Those looking for a driver should make sure that the golf ball flies long and as straight as possible and is extremely forgiving. And this applies not only to beginners, but to any ambitious golfer.
In the long run, beginner golfers also need fairway woods that are easy to play with. Here, beginners should ask themselves whether the new club is to be used when teeing off from the tee, whether long distances are to be covered from the fairway, or whether the fairway wood is to replace a long irons in the golf bag. In short: Before buying golf clubs, golf beginners should be clear about what the fairway wood is to be used for. Especially with fairway woods, there is a huge selection in terms of different lots and hosel settings. We are happy to help you find the right golf club.
How about a hybrid for beginners? This is a mixture of an irons and a fairway wood. This is because hybrid clubs are a sensible compromise between the length of a wood and the precision of an irons. And what's more, this golf club is much easier to play, which is a visible advantage, especially for beginners.
Probably the most important club in the bag is the right putter for beginners - it determines success and defeat on the green. To save strokes, golf beginners should take into account that the putter is well balanced and creates a good feeling at impact.
Package sets for newcomers to golf
An easy and inexpensive way for golf beginners to get started is with package sets. Just like any other clubs, golf clubs from a package set are based on state-of-the-art technologies. Thus, it is made easy for golf beginners to acquire a correct technique right from the start. At Golf House, beginners can find a set of first-class clubs that are specially designed for golf beginners. So why not treat yourself to a flying start for getting started in golf - without breaking the budget. In short, don't make it harder on yourself than it is. And the good thing is that more golf clubs can be bought or traded in later.
Which golf balls are suitable for beginners?</h2 >
To each suitable golf club belongs of course also the suitable golf ball for beginners. But which ball is best for golf beginners? The easiest way is to try different balls and see if you can notice any difference in the stroke. Otherwise, you can also ask our experts at Golf House what he or she recommends in terms of how you should hit or play. There are two-piece, three-piece, four-piece and sometimes even five-piece golf balls to choose from consisting of new materials and material combinations as well as different dimples patterns. Again, the motto is that the golf ball must fit the needs of the player. At this point, however, it should be mentioned that multi-part balls are often higher in the price segment than one-piece balls. Accordingly, golf beginners should first play with one-piece golf balls for training purposes, in case one or the other ball does not reappear. Exactly which model it will be is not all that important. It would be important to always play the same model, if possible, so that a reproducible result can be achieved. Alternatively, lake balls can be used, i.e. used golf balls that have been completely retreaded but still have the same playing characteristics.
Which golf bag is the right one for beginners?
As with any sport, it's all about wonderful experiences and the joy of playing. But for a successful game of golf, the right golf equipment also counts. After all, every player wants to make more birdies, hit longer drives and improve their technique. No matter which way you go, having the right clubs in your golf bag, the right golf ball on the tee and comfortable shoes on your feet should give you the opportunity to grow and develop quickly on the golf course. However, to be able to play in any weather, you need a practical bag to carry your golf equipment in a way that is easy on your strength and on your materials. And since you spend a lot of time with the bag over several years, you should demand more from a golf bag than just looking pretty. Golf House offers a wide range of bags, from lightweight carry bags to spacious cart bags with enough room for drinks and additional clothing. It is important that beginners pay attention to carrying comfort, weight and quality.
What should beginners look for when buying golf shoes?
For some golfers, comfort is most important. Others want a lightweight golf shoe and still others want it to be able to be worn in wind and weather. And then there are the players who are looking for a shoe that offers everything in one. By the way, these days you rarely see the old steel spiked golf shoes on the tour. But even there, these shoes are being replaced with soft spikes made of plastic. As with any other shoe, it is crucial that the golf shoe fits well and can be worn for several hours without any problems. And here at Golf House you are on the safe side with the fit guarantee! If you find that the selected golf shoe is not the right one, you can exchange it for a new pair within 6 weeks.
What is the right golf clothing for beginners?
Modern golf clothing today is far more thought out and sophisticated than conventional clothing. Most golf clothing is made almost exclusively with functional features in mind. For example, ultra-modern functional materials offer the advantage of allowing sweat to pass through and dry quickly. At the same time, they feel soft and comfortable against the skin. And they keep their shape for a long time. But that doesn't mean that players have to do without modern colors, patterns and cuts. Convince yourself of our large selection of golf clothing. Thus, our range extends from polos and golf pants to skorts and golf dresses to sweatshirts and jackets.
Which golf gloves are suitable for beginners?
As with shoes and golf clothing, there are golf gloves that are suitable for different playing situations and weather conditions. For example, there are gloves made of soft Cabretta leather with a fantastic feel and gloves for rainy days with the best possible grip in wind and weather. All-weather gloves are designed for those who want to be optimally prepared for all eventualities. They work, as the name suggests, in wet and dry conditions. Onesize golf gloves offer security of fit! They adapt to any hand size and are just right for a beginner golfer!